This tasty recipe of  Sautéed champignons was found by us at Lemon Blossoms website. Kathy is an amazing cook and has offered her way of cooking button mushrooms in such an easy and mouthwatering way! Go and check this and many other recipes at her website.
These Sauteed Mushrooms are tender, plump, juicy and hearty. A quick and simple side dish to serve any day of the week but fabulous enough for a holiday meal!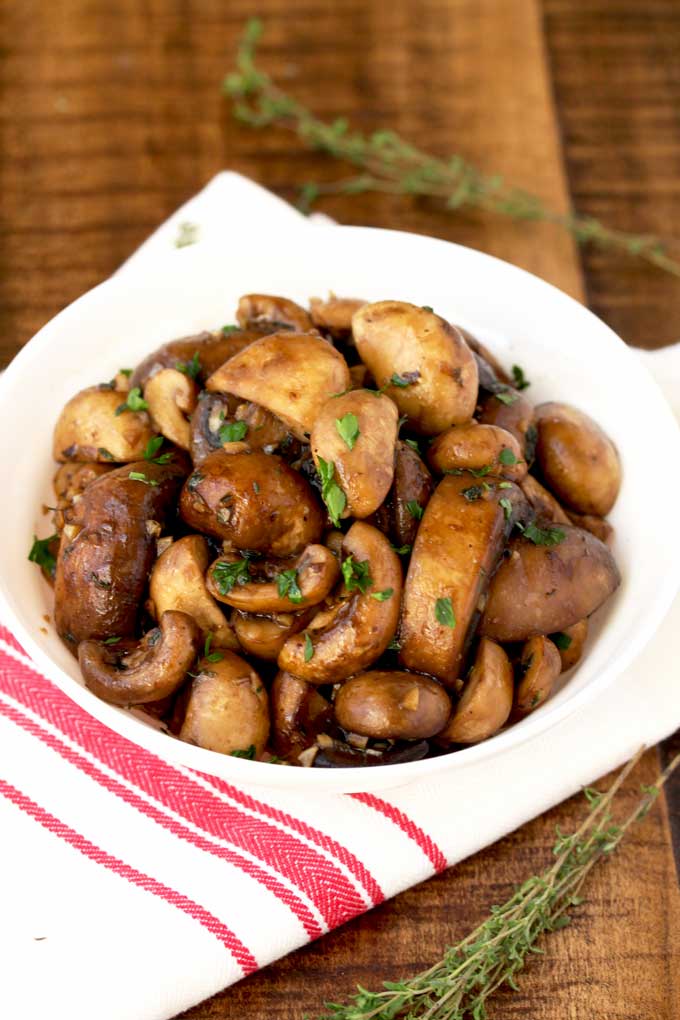 The button mushrooms cooked in this way are full of umami flavor! Sauteed in a combination of olive oil and butter, lots of fresh garlic, fresh thyme and with a splash of Balsamic vinegar, this Sauteed Mushrooms recipe is the perfect, quick and most delicious side dish ever!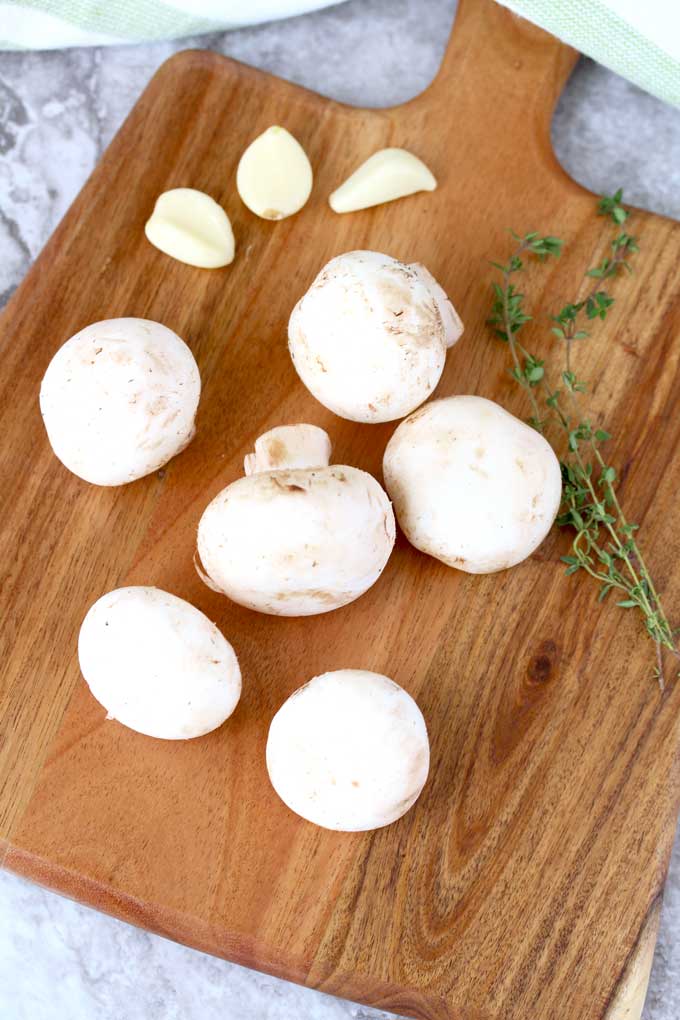 HOW TO SAUTE MUSHROOMS
Perfectly sauteed mushrooms infused with butter, garlic, and thyme are very easy to make but there are a few rules you should follow to guarantee golden brown, firm and juicy mushrooms that are full of flavor! Here are some of my tips for perfect sauteed mushrooms:
Mushrooms need to release some of their liquid so they can get slightly golden edges. For this, we saute mushrooms in a very hot skillet with oil and butter. You want the butter to be hot and foamy. By mixing the butter with the oil, we allow the butter to get hot without browning or burning. You can also use just olive oil but – butter and mushrooms are so delicious – doesn't butter make everything taste better? Yes, the answer is yes!
Do not add any salt to the mushrooms at the beginning of the cooking. Mushrooms are full of moisture, even though we are trying to draw out some of their liquid, we don't want to draw their juices too quickly and end up with prune-like looking tasteless mushrooms.
Do not add any liquids at the beginning of the cooking. Let the mushrooms release some juices and start getting a bit golden and soft before adding other ingredients.
After the mushrooms are a bit soft and have slightly golden edges, I make space in the center of the skillet and add the garlic and thyme. I allow the garlic to cook for about a minute before mixing it with the mushrooms (see photo below).
I add the balsamic vinegar at the end and give it a quick toss. Season with salt and ground black pepper and this mushroom side dish is done!
This tasty Sauteed Mushrooms recipe is perfect served as a side dish but it can also be served as an appetizer. Serve these buttery garlicky mushrooms with crostini or French bread as part of a cheese platter or charcuterie board. Top it with some freshly shaved Parmesan cheese for the most delectable vegetarian appetizer.
This Sauteed Mushrooms recipe can also be used to top creamy polenta and pizza! Toss them with cooked pasta, fresh mozzarella or goat cheese and dinner is ready!
Ingredients
1

 

tablespoon

 

olive oil

2

 

tablespoons

 

butter

1 1/2 

pounds

 

button mushrooms, cleaned, stems removed and cut in half

4

 

garlic cloves, minced

1

 

teaspoon

 

fresh thyme

Salt and ground black pepper to taste

2 

teaspoons

 

Balsamic vinegar

Chopped Parsley for garnish (optional)
Instructions
In a large skillet over medium-high heat, add the oil. When the oil is hot add the butter and melt swirling the skillet.

Add the mushrooms to the skillet in a single layer and cook, stirring them a couple of times for about 4-5 minutes, or until the mushrooms start to become soft and slightly golden on the edges.

Lower the heat to medium-low. Push the mushrooms towards the edges of the skillet, leaving a small empty area in the middle of the skillet to add the garlic. Add the garlic and fresh thyme and cook for about a minute or until fragrant. You don't want to brown the garlic, just to cook it to get rid of the raw taste.

Toss the mushrooms with the garlic and thyme and season with salt and ground black pepper to taste. Saute for about 2 minutes then add the Balsamic Vinegar. Cook tossing a few times for about 2 minutes. Check for seasoning and serve.